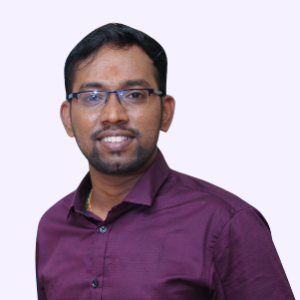 Hospital Location
Perumbakkam
Speciality
HPB & Liver Surgery
Dr Atchya Arun Kumar M
MBBS, MD (Anaesthesia), PDCC (Transplant Anaesthesia & Critical Care)
Jr. Consultant - Liver, HPB Anesthesia & Liver Intensive Care,Liver Transplantation
Biography
Dr. Atchya Arun Kumar is alumni of the Tirunelveli Medical College and then went on to finish his MD in Anaesthesiology from the Benaras Hindu University, Varanasi. He also completed PDCC in Transplant Anaesthesia & Critical Care from the Institute of Liver & Biliary Sciences and holds the European Diploma in Intensive Care from the European Society of Anaesthesiology.
An expert in the field of transplant anaesthesia & critical care, his professional experience includes senior consulting roles in Cardiac Anaesthesiology and Liver Transplant ICU. He's been a senior resident for Anaesthesia & Critical Care at AIIMS and also authored publications for several leading journals.
Professional Experience
21-06-18 to till date

Junior Consultant, Liver Transplant ICU, Apollo Hospitals, Chennai.

01-02-2018 to 16-06-18

Senior Resident Cardiac Anaesthesiology Department Fortis Malar, Adyar.

02-01-2017 to 01-01-2108

PDCC Transplant Anaesthesia & Critical Care, Institute of Liver & Biliary Sciences, ILBS, New Delhi.

23-07-2016 to 24-12-2016

Senior Resident Anaesthesiology, AIIMS, New Delhi

21-07-2013 to 22- 07-2016

Post graduate trainee in MD Anaesthesiology, BHU, Varnasi.
Memberships
Life Member Indian Society of Anaesthesiologists
Achievements
Secured third place in poster presentation competition at UPISACON 2015, agra.
To evaluate single oral dose of vitamin C in reducing postoperative analgesic doses of Intravenous acetaminophen in patients undergoing laparoscopic surgeries.
Research Publications
Kumar AA, Singh RB, singh A (2016) Vitamin C Premedication Reduces Postoperative Rescue Analgesic Requirement after Laparoscopic Surgeries. J Anesth Crit Care Open Access 5(1): 00175. DOI: 10.15406/jaccoa.2016.05.00175.
Prakash S, Pai VK, Dhar M, Kumar AA. Premedication in an autistic, combative child: Challenges and nuances
Pai VK,Dhar M, Singh AP, Kumar AA. Neonate with omphalocoele and dextrocardia. Anaesthetic goals and challenges. J Med Sci 2016; 36:81-3.
Bharti AK, Kumar N, Kumar AAM, Gupta BK, suman S (2016) Anaesthetic Management of Siblings having Xeroderma Pigmentosum: A Rare Presentation. J Anesth Crit Care Open Access 4(2): 00129. DOI: 10.15406/jaccoa.2016.04.00129.
Languages Known