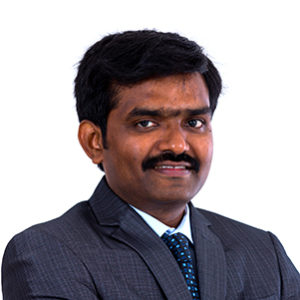 Hospital Location
Perumbakkam
Speciality
HPB & Liver Surgery
Dr Ellango AP
MBBS, MD (Anaesthesia)
Sr. Consultant - Liver, HPB Anesthesia & Liver Intensive Care,Liver Transplantation
Biography
Dr Ap Ellango is alumni of the Kasturba Medical College, Mangalore and went on to complete his MD in Anaesthesiology from the same institution in 2008. In his residency program he worked on complicated cases of Orthopaedics, General surgery, Obstetrics and Gynaecology, Paediatric surgery, Neurosurgery, Plastic surgery, Oro-maxillo-facial surgery and Urology.
He's had a stint in the UK, working with the NHS Trust for a year with specialization in Hepatobiliary and transplantation, Liver failure, Major Vascular Surgery, Haematology, Renal, Trauma and Neuro-Surgical procedures.
Published in several scientific journals, Dr Ap Ellango is experienced in dealing with liver transplant Anaesthesia.
Professional Experience
Jan 2013 – till Date

Associate Consultant, Department of Liver Transplants and Critical Care, Gleneagles Global Hospitals, Chennai.

Dec 2011 – Jan 2013

Clinical Fellow, Intensive Care Unit, Newcastle Upon Tyne Hospitals NHS Foundation Trust, UK.

Jun 2008 – Oct 2011

Senior Resident & Associate Professor, Kasturba Medical College, Manipal.
Publications
Townes-Brocks syndrome--airway management conditions improve with age: report of follow up of a single case: Paediatr Anaesth. 2009 Mar;19(3):284-6.
Diagnostic fiberoptic bronchoscope aided double lumen tube insertion.1: Ann Card Anaesth. 2009 Jan-Jun;12(1):89-91.
Immediate postoperative airway obstruction secondary to airway edema following tumor excision from the neck. J Anesth. 2009;23(4):609-12. Epub 2009 Nov 18.
Comparative Evaluation of Low Dose Succinylcholine against standard intubating dose in children. J Anaesth Clin Pharmacol 2009; 25(4): 413-416
Double-blind randomized controlled trial of the routine perioperative use of terlipressin in adult living donor liver transplantation. Liver Transpl. 2017 Aug;23(8):1007-1014.
Languages Known