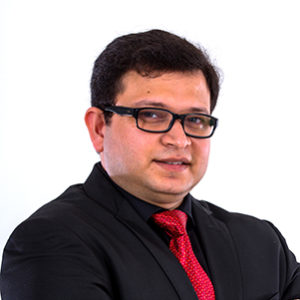 Hospital Location
Perumbakkam
Speciality
HPB & Liver Surgery
Dr Karthik Raj Manoharan Rao
MBBS, MSc, MD (Anaesthesia), PDCC Fellowship
Liver Anaesthesia & Critical Care – Consultant,Liver Transplantation
Biography
Dr Karthik Raj Manoharan completed his bachelors in medicine and MD from Sri Ramchandra University after which he pursued his masters in science in the field of infectious disease from the University of Western Australia. He later received a fellowship in liver transplant, HPB anaesthesia and critical care from Tamilnadu Dr MGR Medical University.
In his professional experience of more than 10 years, Dr Karthik has managed multiple profiles both in at esteemed organisations in India and Australia in the capacity of Senior Registrar, Resident, Clinical Research Assistant, and Medical Officer.
Professional Experience
July 2017 – Till Date

Junior Consultant, Liver Pancreas and Intestinal Transplant Intensive Care, Apollo Hospitals, Chennai​.

Jun 2014 – July 2017

Senior Registrar, Liver Anaesthesia & Intensive Care Unit, Gleneagles Global Hospitals, Chennai.

Mar 2011 – Apr 2014

Resident, Department of Anaesthesia, Critical Care & Pain Medicine, Sriramachandra University, Chennai.

Nov 2009 – Mar 2010

Clinical Research Assistant, Telethon Institute of Child Health Research, Australia​.

Feb 2009 – Nov 2009

Tutor in Human Physiology, The University of Western Sydney, Australia

Apr 2008 – Nov 2008

Clinical Research Assistant, Sir Charles Gaidner Hospital, Australia

Nov 2007 – Jan 2008

Demonstrator, Department of Forensic Medicine, Sriramachandra University, Chennai

Jul 2007 – Nov 2008

Medical Officer, Deepan Hospital, Trichy
Expertise
Liver Transplant and Hepatobiliary
Hepatology and Gastroenterology
Transplant Unit & ICU
General Anaesthesiology, Critical Care & Pain Medicine
Clinical Research and Statistical Analysis
Academic Teaching, Lecturing and Demonstration
Memberships
Indian Medical Association
Indian Society of Anaesthesiologists
Achievements
Randomized controlled trail of Laparoscopic Vs. Open Appendicectomy. G. Manoharan, Karthik Raj M, Pari M R, Subramanian M: 2003, Abstract book of XIX Global Meeting of INCLEN, China 2003, p100
Student Reviewer for Elsevier Publishers of Medical Textbooks – Parson's Diseases of the Eye, Diseases of Ear, Nose and Throat by P.L. Dhingra, Gray's Anatomy, Prep Manual for Undergraduates – Medicine, Davidson's Medicine Textbook. Mentored by Dr. Chet Hunter, International Editor of Davidson's Medicine Textbook in 2003.
Research Publications
Diverging Trends in Gastroenteritis Hospitalizations During 2 Decades in Western Australian Aboriginal and Non-Aboriginal Children, Pediatric Infectious Disease Journal, Nov 2013 Authors: Karthik Raj Manoharan, Hannah Moore and Deborah Lehmann.
Prospective randomized study to compare between intravenous dexmedetomidine and esmolol for attenuation of hemodynamic response to endotracheal intubation, Anesthesia Essays Res, 2016 May-Aug. Authors: Venkatesh Selvaraj, Karthik Raj Manoharan.
Languages Known