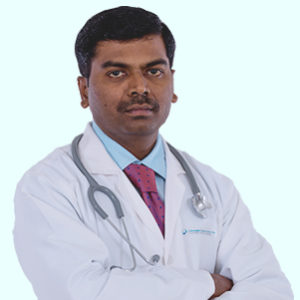 Hospital Location
Perumbakkam
Speciality
Senior Consultant - Nephrology
Dr Muthu Kumar P
MBBS, MD(Gen.Med), DM (Nephro)
Senior Consultant - Nephrology
Biography
Dr Muthu Kumar has completed his MD in Nephrology from Madras Medical College, Chennai. He has been an Assistant professor in General Medicine at Vinayaka Mission Medical College Hospital.
Professional Experience
Dr Muthu Kumar has 6 years of experience as Consultant Nephrologist and Transplant physician, at Gleneagles Global Health City, Chennai.

He has 3 years of Nephrology training and experience gained from Madras Medical College.

He also 9 years of experience in renal transplantation including live donor and deceased donor transplant.
Expertise
He has received Prof. Madhanagopalan Gold Medal In Gastro-Enterology.
Experience in general nephrology, hypertension, renal stone diseases, pediatric nephrology including congenital diseases and geriatric nephrology.
Experience in the management of high risk dialysis patients.
Published an article on Schizencephaly in the Journal of Associaton of Physicians of India in 2005.
Presented papers on Infection related AKI at southern Chapter of Indian society of Nephrology at Chennai in 2012.