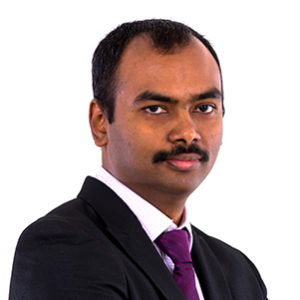 Hospital Location
Perumbakkam
Speciality
HPB & Liver Surgery
Dr Selvakumar M
MBBS, MD (Anaesthesia), DNB (Anaesthesia)
Associate Consultant - Head of Dept. - Liver, HPB Anesthesia & Liver Intensive Care,Liver Transplantation
Biography
Dr Selvakumar Malleeswaran is alumni of the Madras Medical College, Chennai and completed his MD in Anesthesiology from PGIMER, Chandigarh. He also as a DNB in Anesthesiology and a European Diploma in Intensive Medical Care. His professional experience includes heading senior consultant roles in Liver Anaesthesia and Intensive Care.
He also served as the Assistant Professor for Anaesthesia and Critical Care. And has vast experience in the critical care management of liver transplant recipients and critically ill cirrhotic patients. His areas of experience include – paediatric liver transplants, vascular anaesthesia, transplant and hepatology critical care.
Liver transplantation, Combined Liver Kidney transplantation, HPB surgeries, Kidney-Pancreas and Multi-visceral transplantation and medical management of acute liver failure and critically ill cirrhotic patients – are his areas of specialization. He's also skilled in the treatment of several gastro-intestinal conditions.
Professional Experience
19th Sept 2017 – till date

Senior Consultant, Liver Anaesthesia and Intensive care Intensivist in Charge, Liver ICU Apollo Hospitals, Greams road, Chennai.

15th Oct 2010 – 18th Sept 2017

Consultant Anaesthesiologist and Intensivist Institute of Liver diseases and transplantation, Global Hospitals & Health city Perumbakkam, Chennai, India.

05thMay 2009 - 30thSept 2010

Assistant professor, Anaesthesia & Critical care Chettinad Hospitals and Research Institute, Chennai, India.

01stJuly 2008 –30thApril 2009

Senior Resident, Anaesthesia &Intensive care PGIMER, Chandigarh, India.

01stJuly 2005 –30th June 2008

Junior Resident, Anaesthesia & Intensive care PGIMER, Chandigarh, India.

March 2004 to March 2005

House officer Madras Medical College, Chennai.

Aug 1999 to Feb 2004

M.B.B.S Madras Medical College & Research Institute Chennai, India.
Publications
Effect of Intrathecal magnesium Sulphate to bupivacaine-fentanyl spinal anaesthesia in mild preeclamptic patients undergoing caesarean section.

S. Malleeswaran, N. Panda, P. Mathew, R. Bagga International Journal of Obstetric Anesthesia (2010) 19, 161–166

Impact of intraoperative blood transfusion on outcome in infants undergoing orthotopic liver transplantation - Poster

Malleeswaran S., Kaliamoorthy I., Reddy M.S., Rajakumar A., Shanmugam N.P., Rela M. International Liver Transplant Society Congress, Prague, 2017.

Anaesthesia and intensive care for simultaneous liver-kidney transplantation: A single-centre experience with 12 recipients.

Akila Rajakumar, Shiwalika Gupta, Selvakumar Malleeswaran, Joy Varghese, Ilankumaran Kaliamoorthy, Mohamed Rela
Indian Journal of Anaesthesia 2016 60(7) 476-483

Anaesthesia and Intensive care within a new liver transplant programme: Report on outcomes after evolution of a successful structure after 179 transplants.

I. Kaliamoorthy, A. Rajakumar, V. G. Venkatesan, S. Malleeswaran, Thomas P. Cherian, 
R. Rajalingam, J. Varghese, M. Rela Journal of Clinical and Experimental Hepatology (March 2013) 3 (1S) S113

Deceased donor liver transplantation in the east – A viable opportunity for growth or a logistic and clinical nightmare?

Thomas P. Cherian, J. Varghese, A. Bharathan, V. G. Venkatesan, A. Rajakumar,
S. Malleeswaran, V. Palaniyappan, S. Reddy, A. Nethaji, I. Kaliamoorthy, M. Rela
Journal of Clinical and Experimental Hepatology (March 2013) 3 (1S) S114

A Randomized Study of Magnesium Sulphate as an Adjuvant to Intrathecal Bupivacaine in Patients With Mild Preeclampsia Undergoing Caesarean Section".

S. Malleeswaran, N. Panda, P. Mathew, R. Bagga Survey of Anesthesiology (February 2011) 55, 24-34

Magnesium Sulphate as an Adjuvant to Intrathecal Bupivacaine in Pre-Eclamptic Parturients Undergoing Cesarean Section

S. Malleeswaran, N. Panda, P. Mathew, R. Bagga Regional Anesthesia & Pain Medicine (October 2008) 33(5) 129
Languages Known